Pedal Power 3 PLUS High Current 12-output Isolated Power Supply
Pedal Power 2 vs Pedal Power 3 — What's Different?
The Pedal Power 2 has been a reigning champ in toroidal power supplies for years. And while it more than holds up today (seriously, plenty of guitar and bass players at Sweetwater are still rocking these things), the Pedal Power 3 takes high-current and low-noise a step further:
Smaller and lighter

 

— Fans of the previous Pedal Power will notice a reduction in size and a massive reduction in weight in the Pedal Power 3. Mounted under your board, it's almost imperceptible.
Universal input power

 

— The Pedal Power 3 accepts a range of input voltages (100—240v) to support international operation. There are no screws to remove or DIP switches to toggle. Just plug in and rock out, anywhere in the world.
500mA DC outputs

 

— Modern digital pedals have really upped the ante for pedal supply needs. The Pedal Power 3 rises to the occasion, with 500mA of current (and we're told that's a conservative estimate) on tap for every pedal in your arsenal.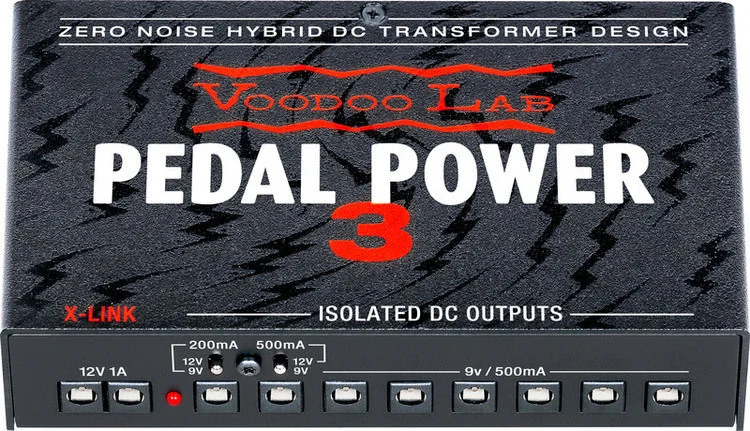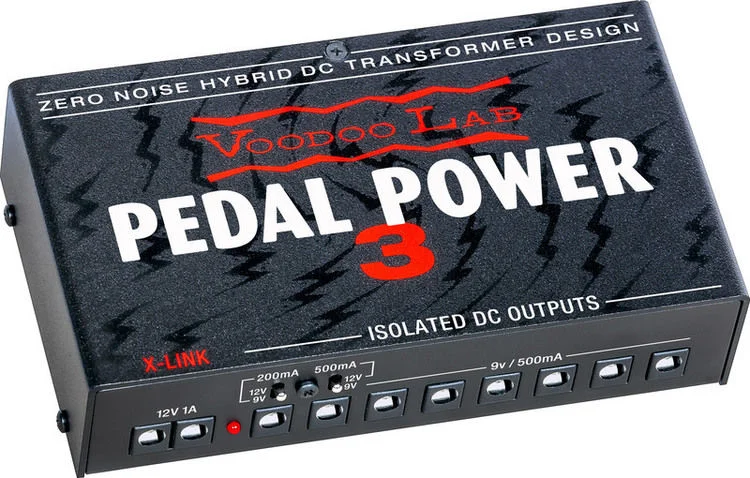 Zero-noise hybrid design
The Voodoo Lab Pedal Power 3 sets new benchmarks for noise, current, and weight. The secret lies in Voodoo Lab's hybrid DC transformer design. It outputs an extremely linear DC charge that, thanks to its 80-nanosecond polarity reversal, is nearly noise-free out of the gate. And that's before its advanced computer-optimized filtering. A premium analog signal path comprised of large ceramic capacitors and organic polymer filters ensures you get top performance from all your stomps: your high-draw digidelays to your old-school fuzz boxes.
High-current 500mA outputs
Yesterday's pedal power supplies won't cut it for today's current-hungry modern digital stomps and modeling FX. That's why every outputs on your Pedal Power 3 is rated to deliver up to 500mA of current. So even if you've got a board full of Strymon and Source Audio stomps, the Pedal Power 3 won't buckle under pressure. Play vintage stomps? No problem. Each outputs only serves your pedals the current they need, so there's no risk of overloading.
X-LINK expansion ports
Right out of the box, the Pedal Power 3 gives you eight isolated DC outputs. That's plenty for most travel and stage boards. But even if down the road you expand and need more outputs, the Pedal Power 3 has you covered. Two X-LINK outputs allow you to connect X-Series expansion modules, such as the X4 and X8, without plugging in additional wall power. Add two X8s, and you've got 24 outputs to feed the hungriest full-service boards!
9V–24V operation
By combining the onboard 9V and 12V DC outputs, you've got the voltage you need to support standard 9V stomps as well as less-common 12V, 18V, and 24V FX.
Worldwide compatibility
Even better, the Pedal Power 3 gives you fuss-free performance anywhere you're likely to play out. Touring domestically or rockin' across the pond, the latest Voodoo Lab Pedal Power has you covered for any performance application.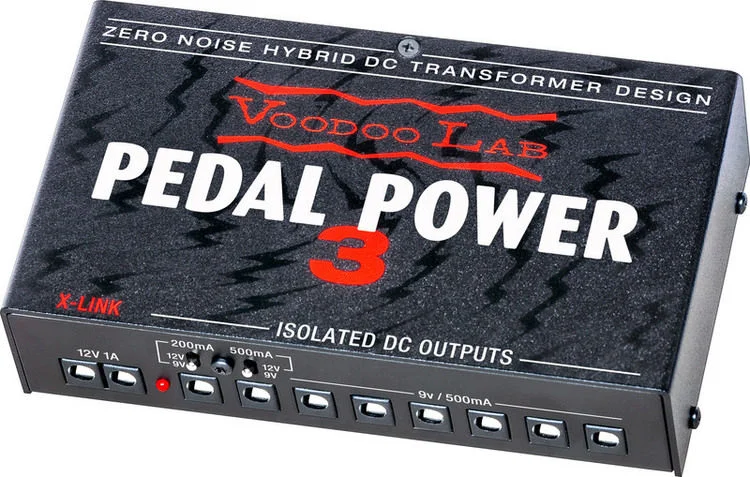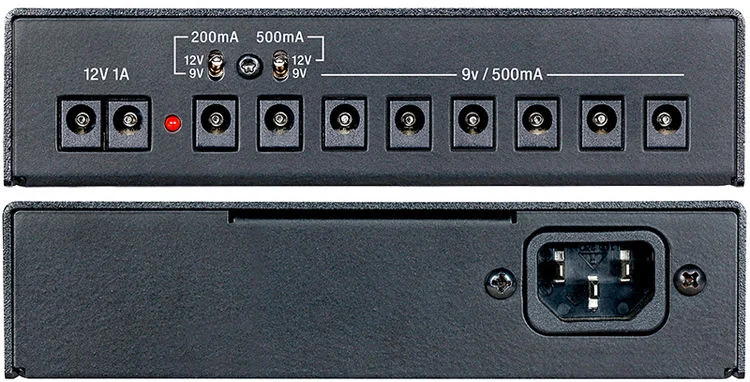 Voodoo Lab Pedal Power 3 8-output Pedalboard Power Supply Features:
The smallest, lightest, and most capable Pedal Power so far
Hybrid DC transformer design supplies 8x galvanically isolated 500mA DC outputs
2x voltage selector outputs give you 500mA @ 12V or 200mA @ 9V
Extremely quiet — virtually zero noise
Lightweight Low profile — perfect for pedalboard mounting
Serves 9V, 12V, 18V, and 24V pedals
Universal switching (100V–240V) delivers international performance
X-LINK expansion ports let you add additional outputs via the Pedal Power X4 and X8
Each unit handmade in the USA
Backed by a 5-year manufacturer warranty
Includes DC power cable kit and detachable IEC
Dimensions: 6"W x 3.4"L x 1.5"H
Weight: 14.4 oz